Adventure Thrilling Excursions
Please note a 10% value added tax is applicable to all excursions at the adventure desk. All rates are quoted in US dollars and are subject to change without notice. All excursions are sold at the Adventure Desk located at the lobby.
Experience the newest and most exciting zip line in the Soufriere Hotwire. Eight zip cables move you effortlessly through the estate where you can take your own air-borne photos of the Piton, before being carried into a canopy of trees and across a bamboo-shadowed gorge. After an exhilarating experience, relax with a creole lunch on the grounds of the original working Plantation House followed by a tour. During the return trip, enjoy stops for views of the Pitons and St. Vincent. Bring cameras. Wear comfortable outdoor shoes and clothing.
Includes: Transportation, all entrance fees, and lunch

$94 (per Child)
Ages: 5-12 Yrs.
9:30 am – 2:00 pm
Monday – Sunday

RAINFOREST Zipline Adventure
Near the town of Dennery, take an exhilarating flight through Saint Lucia's exotic Rainforest. Enjoy a bird's eye view as you zip through platforms with a unique view of the rainforest and river. Bring along cameras and sunscreen.
$79 (per Child)
Ages: 6-12 Yrs.
9:00 am
Tuesdays & Fridays
Rainforest Sky Rides North of Castries
This celebration of colour and life is an unforgettable experience. Our gondolas safely glide through and over the treetops, where knotted, twisting vines wind to the tops of old trees. Dense thickets of splendid vegetation merge with cascades of flowers. The Aerial Tram Tour lasts for approximately 1 hour and 15 minutes. A brisk walk is part of the experience. Take along cameras, sunscreen, bug repellent, souvenir money etc. Sturdy shoes and long pants are recommended.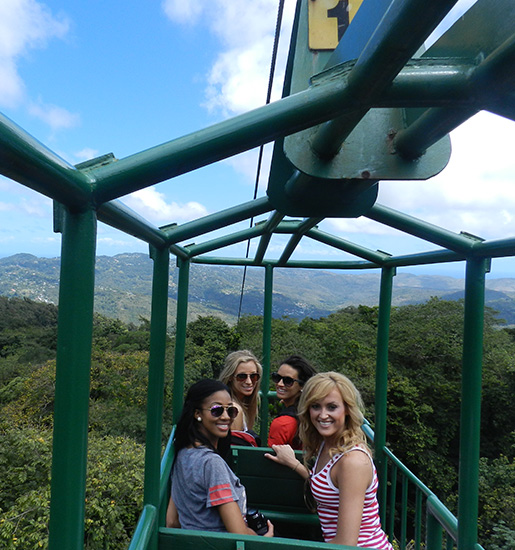 $109 (per Child)
Ages: 6-12 Yrs.

ATV Tours Thrilling Rides Await You
Thinking of a thrilling excursion. Our fleet of top of the line Yamaha Grizzly ATV's awaits you. Experience a guided tour through a network of great riding trails. Enjoy riding through rivers, old plantations, farms, valleys, over and under the "Devils Bridge" and a nearby beach. Riders need to be (16) years or older.
Includes: Light Refreshments and Snacks
$126 (per Rider per Bike)
$126 (per Rider per Bike)
Ages: 16 Yrs.
8:30 am – 12:00 pm
2:00 pm – 5:30 pm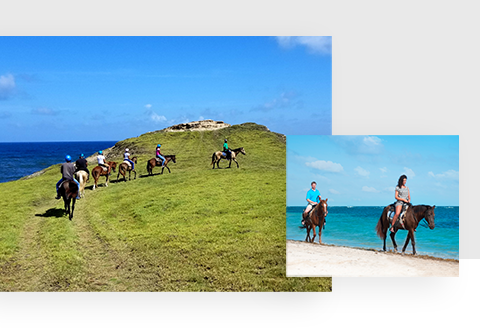 Horseback Riding By The Atlantic Shores
Explore the majestic beauty of the island atop a trusty horse at Atlantic Shores Riding Stables. Be prepared to be awed by the breathtaking landscape as the Atlantic Ocean winds blow effortlessly through your hair. You may find yourself trotting through the ocean surf, cantering up the hill and walking leisurely taking in the tranquility of the moment.

$78 (per Rider)
$96 (per Rider)
$78 (per Rider)
$96 (per Rider)
Adventure, Eco Tour, Horseback
All tours & prices, quoted in US$, are subject to change without notice. Rates indicated do not include Saint Lucia VAT Sales Tax. A 50% cancellation fee applies to tours canceled less than 24 hours prior to tour departure. Notice must be provided to a tour desk representative.