Come relax in Trattoria, a casual, family-friendly outdoor setting and enjoy Chef's update to your favorite Italian dishes, perfect for sharing. Crispy bruschetta is topped with our greenhouse tomatoes and basil drizzled with a sweet and tart balsamic syrup. A red and mushroom reduction finishes basil grilled steak while the chicken picatta is tangy with lemon. Hand-tossed pizzas from the Earthstone oven and pastas are topped the way you like them.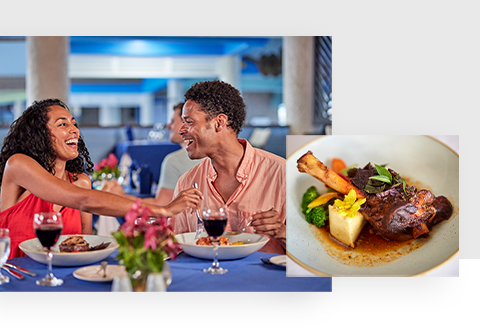 Hours:
Dinner: 6:30 pm – 10:00 pm
Location:
Next to Activity Pool and Adjacent to Sand Bar
Attire:
Resort Casual Wear (Dress Code Applies to Adults and Children Over the Age of 12)
Reservations:
Required
(Must be made in advance in the lobby. Seating schedules accommodate both families and couples. There is no charge for Trattoria as part of the Premium All-Inclusive package.)
Menu Highlights/Signature Dishes:
Pumpkin, spinach and artichoke dip with crisp pita triangles, Spaghetti with slow-cooked meatballs in marinara, shrimp scampi with rosemary focaccia chocolate lava cake Savory Spirits: Home-made Sangria, Sicilian kiss.
Acceptable Attire for Dress-Code Includes:
For Gentlemen – sport slacks, khakis, jeans (no cut-offs), collared sport shirts, dress shoes.
For Ladies – summer or cocktail dresses, casual skirts or pants and blouses, capri pants, jeans (no cut-offs).
Not permitted: shorts, gym shorts, t-shirts, beach flip-flops, bathing suit attire, cut-off jeans, sleeveless shirts for men, sportswear or baseball hats.